The following is a narrative composed by David's parents with the intent of interpreting what they believe he would say if he could do so himself: This was written in April of 2001, during a period of intense strife and difficulty regarding David's school program.
Legal disclaimer. please read.
All statements on this sight, are my personal views and opinions, no people, places, or institutions are specificly named, nor is any resemblance to real places, people, or organizations intended. Parts of this page may be wholly fictional, and all statements made here are protected by the first amendment of the constitution of the United States of America.
By clicking any of the links on this page that referance any file residing within this webspace, you agree to surrender any and all legal remedies pertaining to any statements, pictures or inferences contained herein. This applies to any and all external links to any of the pages or files on this site. This page may not be reproduced in any form without the express written consent of David L. Richards
Any unauthorized reproduction of this site will constitute theft of intellectual property, and will be pursued to the full extent of the law. This applies to any and all unauthorized copies in existance. If you are in possession of any unauthorized copies of this site, or any mirror site that consists of any part of this site created by David L. Richards It must be destroyed, and written consent attained, before it can be presented in any form other than this digital document residing in this current webspace.
Hello. My name Is David. I will be 5 in April. I have something called Autism. I do not know what that is. I know I feel weird a lot, and I want to do things other boys don't. As you can see from the bruise on my head, I also like to hurt myself. I did that banging my head on the floor at school. I did not want to do their stupid puzzle that I do not even like. They make me do it all the time.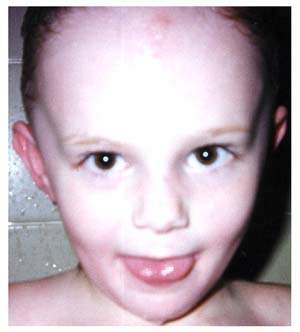 My Mommy and Daddy love me very much, and they would like me to stop hurting myself and start talking and going to the bathroom like a regular boy. But I can't. No one will show me how. Sometimes it takes a lot of effort and patience to show me things since I do not think and understand things like a regular boy. I have a hard time sleeping, so my Mommy does not get to sleep much. She is very tired all the time. So it is a struggle for her to just keep me alive every day since I am not afraid of anything. I do not understand danger, and do not know how to avoid it. I like to run away, and go to the McDonald's and take all the food that is sitting on the tables.
My Daddy comes to see me on the weekends, so Mommy can get some rest, but he has to work and take care of my sick grandma (she has MS and is in a wheelchair), so he cannot come and be with me all the time. My Mommy and Daddy are very sad all the time.
They are always talking about me, but I do not understand much of it. I hear a lot of stuff about "speech" and "OT" and "aides," and the word "services" comes up a lot. I just want to play on my computer and ride in the car. I want to make them happy but it is hard for me since I always have to be moving so I do not feel bad. I do not like the way my clothes feel and my head hurts all the time. That is why I bang it on stuff. It makes it feel better when I am frustrated and scared and angry. It is the best way I have to deal with all this stuff I do not understand. I hurt a lot, too. Noises bother me, so do the lights in the store, and my skin feels weird. Sometimes I bite myself so I can forget about all the stuff that bothers me. Here is a picture my Mommy took of me biting my knee.
I was mad cause my water balloon broke. Or maybe the water in the tub was too cold. I do not remember. I bite myself a lot. Here are some more pictures of where I bit myself (click images to see them better).
These are just a few of times I have hurt myself.

I like to go to school. I especially like riding on the bus. Sometimes it takes too long and I get mad and bang my head on the windows. The driver gets mad, but I just kick her and she leaves me alone.

When I am at school, I play with a man named Carlos in the morning. I like him. He is nice and plays with just me. But then I have to go and be in a room full of people. I do not really like them. They make a lot of noise, and they make me do dumb stuff like the puzzles. I like to play on the computer with that lady. D is her name. My name has a D in it, too. There are two other ladies there that help the white-haired lady. She is the boss, I think. One of the ladies does not like me very much. She looks at me mean and told my Mommy one time when she came to get me, "You can HAVE HIM!" I was tired that day because I didn't sleep very good the night before, so I was mean to her and would not do the dumb stuff she wanted me to do.

I take a lot of medicine. Over the years, I have taken stuff called Imipramine, Prozac, Clonidine, Risperdal, Buspar, Ritalin, Trazadone, Benadryl, and Klonopin. I don't know what the medicine is for but it makes me feel funny. Sometimes it makes me feel better, and sometimes it makes me do weird things. One medicine made have to ride in the car all the time. If I didn't ride in the car all the time, I panicked. I had to cry and hurt myself real bad.

Another thing I can't understand is why people look at me so weird. Sometimes other kids will point at me and make fun of me and say I don't like them just because I can't talk or understand what they're talking about. I want to play and be like other boys but I don't know how. I don't like toys either. I mostly throw them because I get so mad. Sometimes when I throw them, it will hit somebody by accident. Then people really get mad and look at me weird and sometimes yell at me. I hate it when they yell because it really hurts my ears and it upsets me, too. Sometimes when I'm upset, people will squeeze my head or push on my joints and it makes me feel a little better. At school they give me a special vest to wear. It is heavy. I like it. I wish I had one to wear all the time. I think my mom is trying to get me one because she always tries to get stuff I like. She buys me books with Blue's Clues and Teletubbies because I do like to look at those pictures sometimes.

It hurts to brush my teeth, too. At my old school, they used to help me with that sometimes. They had a special toothbrush there that wiggled in my mouth. It made my mouth feel good because sometimes my teeth hurt. Sometimes I go to the hospital and they do something and it scares me. I wake up and my teeth hurt so bad. My head feels so funny. And then my teeth feel very funny so I wiggle my mouth around a lot.

I like to be rolled up in a blanket or a mat. I like it when my brother puts the beanbag chair on top of me and lays on top of the beanbag chair. It feels really, really good. I like to put myself between the big door and the screen door because it is kind of squeezy. Squeezing feels so good sometimes. I like being in the water a lot. I like the way it feels because it feels very heavy. My Daddy got me a nice thing that I can jump on and bounce. I like to bounce on that thing and my Mommy's bed is good for bouncing, too. But I think when I go to visit people, they get mad because I jump on their beds.

I have a lot of stuff I would like to tell everybody. But the most thing I want to tell people is that I am very smart. I just can't talk and I just can't understand all the words. That is why I like to play with my computer. I don't have to talk and it doesn't talk either. It does what I make it do the same exact way every single time. My Mommy and Daddy say that maybe there is somebody who can do some things that will help me to understand more and act more like a regular boy.I sure hope so. I would like to learn to talk so I can tell people all the stuff I know. I don't want to hurt myself anymore. I want to be able to play and sleep and eat like other boys. My brother talks all the time and I want to be more like him.

Thank you.

David